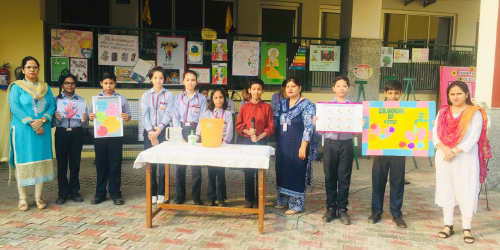 Dr. APJ Abdul Kalam Birth Anniversary and Global Hand Washing Day
SNPS Malviya Nagar celebrated the birth anniversary of Dr APJ Abdul Kalam, which would have been the former president's 87th birthday.
Firstly Suhana of Class VII-A shared her views. She told everyone that Mr. Kalam, known as "the Missile Man" of India for his contribution to aerospace research, succumbed to a heart attack in July 2015 while delivering a lecture at the Indian Institute of Management in Shillong. He died doing what he loved most – sharing knowledge and interacting with young people.
Abdul Kalam was the Principal Patron of the SIES, and also a recipient of the SIES Lifetime Achievements Award.
Students of Class VII and VIII presented a short play to depict the life of Dr. APJ Abdul Kalam to motivate the students.
Global Hand Washing Day
"It's not as elementary as it appears – hand washing is a careful process that must be done right."
 To commemorate Global Hand washing Day and in order to sensitize the students on the techniques of proper hand washing, a special assembly was conducted in Sant Nirankari Public School on 'Good Hand washing Techniques' on Tuesday, 15 October 2019, in the school premises for the students of Classes I – VIII. The workshop started with a short briefing about the need to maintain proper hygiene by Mrs. Aarti Arora, followed by an informative hand wash activity by the students in which they showed the steps to be followed during handwash which clearly indicated that proper hand hygiene can significantly reduce the spread of harmful bacteria and other germs that can lead to diarrhea, vomiting and other harmful infections. The activity was very informative and enlightening which helps in promoting a healthy life.