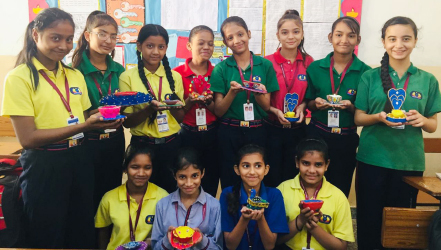 Diwali Celebration – 2019
Sant Nirankari Public School (Malviya Nagar) celebrated Diwali with a lot of fervor and ardor.A special assembly was organised to celebrate Diwali on 25th October with Great Spirit and enthusiasm. Programme started with 'Simran'. After that Mr. Chandan Jha shared valuable information with children to get acquainted to the significance of the festival.
A wonderful cultural dance performed by the students under the guidance of Mrs. Sharda Bajaj and Mrs. Yogita Arora. Mrs. Yogita motivated the students to celebrate a cracker free Diwali.
Head Mistress Mrs. Sushma Manchanda, addressed the students and encouraged them to observe an eco-friendly and a safe Diwali .Mrs Saroj Sakhuja helped and supervised the whole programme.
A Nukkad Natak which was displayed by the students of class VII and VIII in a very innovative way – students wore colourful dupattas. Made various designs of Rangoli ranging from geometrical to floral patterns. The whole display looked magnificent thanks to Mrs. Aarti, Ms. Preeti and Ms. Pallavi.
The items prepared by students included different types of candles, diyas and pooja thalis which were very colourful and decorated with ribbons, sparkles, beads, shells, stars, mirrors, glitters etc and were gifted to all the Staff including H.M., Teachers, Non-teaching staff and Helping staff.
Headmistress Mrs. Sushma Manchanda appreciated this endeavour of the students and encouraged them to celebrate every festival with the same spirit and enthusiasm. Through this exhibition, students taught us how this pious festival can be celebrated in other ways than by just burning crackers and polluting the environment.