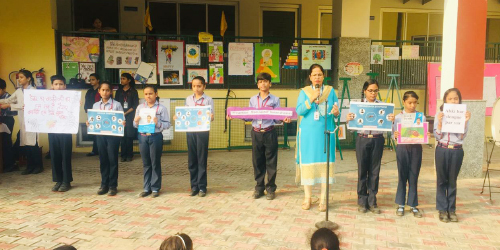 Dengue Awareness Programme
Under the guidance of the Headmistress Mrs. Sushma Manchanda, a special programme was organised to spread awareness about Dengue and the measures to prevent it. Mrs. Saroj Sakhuja spoke about the symptoms, preventive and remedial measures of Dengue, thereby encouraging the students to spread awareness about the diseases among the masses. Students of the school made colourful charts and posters to spread the awareness about dengue.
The following points were stressed during the assembly:
To check stagnant water in the playground, garden, parking, roof top coolers and water tanks on every Saturday and Wednesday. Ensure no possibility of mosquito breeding.
To wear full sleeves shirts and trousers.
To make students and their parents sensitize about the causes and prevention of Vector Borne Diseases (Dengue).