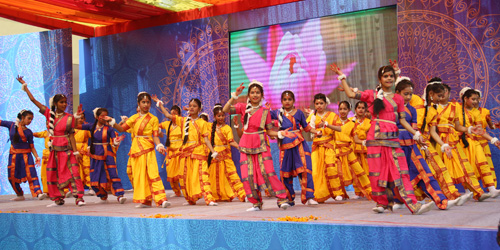 Annual Day celebration at SNPS Malviya Nagar
With the divine blessings of her holiness Satguru Mata Savinder Hardev Ji Maharaj, an Annual Function was organized on 10th February'18 (Saturday) in the premises of Sant Nirankari Public School, Malviya Nagar, New Delhi. Rev. K.R.Chadha Ji, Vice Chairman of Central Planning & Advisory Board – SNM graced the occasion as the Chief Guest along with Guest of Honour Rev. Bindiya Chhabra Ji (Executive President, SNCF) and Mr. Gaur (Dy. Director (Education) South Zone-23, Sh. S.C. Talwar Addl. Member In-charge Education, Mrs.Raman Singh Manhas Administrator- SNPS, Mrs. Narender Batra Ji, Secretary CMC Sh. H.L. Malik Ji, members of LMC, executive members, important guests and other dignitaries from SNM graced the occasion with their benign presence.
The event began with the Flag Hoisting by Rev. K.R. Chadha Ji Rev. Bindiya Chhabra Ji, Mr. Gaur and other dignitaries were along with them. This was followed by the lighting of lamp by the Chief Guest and Guest of Honour. The Chief Guest and Guest of Honour were welcomed with flowers. A welcome speech was delivered by Chairperson Mrs. Kanchan Kumar. Headmistress Mrs.Sushma Manchanda also addressed the guests and gave school report. 'GURU VANDANA' was performed with lot of perfection and grace. Our tiny tots performed Chanda Chamke Cham-Cham and performed a skit on Na Kato Mujhe – to give a message of save trees.
Various Dance performances, Bhangra, Yoga, Nukkad natak an act based on "Jaat Paat ki Diware" and an act based on "Save Girl Child" were performed by the school children. Certificates and awards were given by the Chief Guest and Guest of Honour to the students for their excellent performance in academic and co-curricular activities. After every two performances Pre Primary students received the Graduation certificates in the Graduation Costumes with lot of enthusiasm. They were blessed by the distinguished guests.
An ex-student of the school Shashank Shekhar Singh who is now an IAS Officer also attended the function. He addressed the audience and attributed his achievements to the school and teachers. Rev. K.R. Chadha Ji blessed all and motivated the students in his speech. He stressed on a humanitarian society and rising above ego to attain the real self. Rev. Bindiya Chhabra Ji showered her blessings and her motivating words were a source of inspiration for all. The Grand Finale had a great message of humanity with Love, Peace and Patience. Light refreshment was served to the parents as well as all the participants. The students participated whole heartedly with lots of zeal & enthusiasm. Vote of thanks was given by Manager of our School, Mrs. Shama Kapoor Ji.
SNCF Volunteers assisted the staff in organizing the event under various fields such as make-up of participants, flower decorations, refreshment and lunch etc.
The event concluded with the National Anthem.
Our sincere thanks to our Honourable Chief Guest, Guest of Honour, executive members and other dignitaries, SNM dignitaries, Management, staff and parents for the success of this grand event.