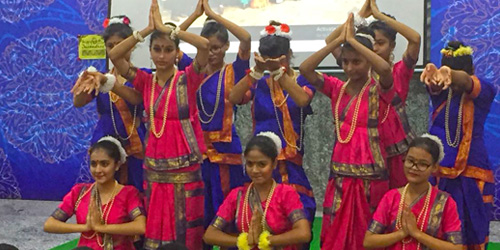 Teachers Day
We celebrate Teachers' day every year, throughout the country on 5th September. Students express their gratitude and appreciation for their teachers on this day. This day is dedicated to Dr. Sarvepalli Radhakrishnan – second President of India and Professor of Philosophy. As a tribute to this great teacher, his birthday has been observed as teachers' day.
A celebration conducted at SNPS Malviya Nagar by our students on 5th September2018. The whole function was planned by Mrs. Saroj Sakhuja along with all the house members. We decided that the responsibility of teaching is taken up by the students as an appreciation for their teachers by playing roles of their respective teachers.
A special programme was held in which the students paid respect to their teachers through poems and speeches which included significance of Teacher's Day and the journey of Dr.Radha Krishnan from a Professor to the President of India.
Students of classes VI- VIII presented Guru Vandana to show their respect to their beloved teachers.
Students of classes IV-V presented a song Guru Mat pita..Guru Bandhu Sakha…Their melodious voice and touching words of the songs gave immense happiness to the teachers.
A vote of thanks was given in the form of flowers & cards made by students by the Head of the departments along with students.
Head Mistress Mrs. Sushma Manchanda addressed the entire school, lauded the entire staff for their exemplary contribution to the school's success and development.
Titles were given to all the teachers to honour their capabilities by giving badges and cards. There was a special celebration for teachers which included Quiz, Musical Chair and Tealent show followed by a grand lunch.
Chairperson Mrs. Kanchan Kumar appreciated the sincerest efforts of the teachers in playing a catalytic role in the holistic development of every student.
All the teachers were appreciated by giving Pen as our token of love.