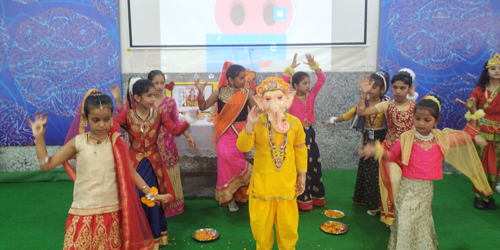 Ganesh Chaturthi – 2019
Sant Nirankari Public School, Malviya Nagar celebrated the festival of 'Vinayaka Chaturthi' on 2nd September 2019 with immense pleasure and joy. Special assembly was organised by Prerna House to celebrate the occasion. The entire school joined hands to invoke the blessings of Lord Ganesha the symbol of wisdom and   remover of all obstacles.
Head mistres (Mrs Sushma Manchanda) and teachers performed the Ganesha Pooja. The festivals started with aarti ceremony, students of junior wing thrilled the audience with their dance performance.
The story based on life of lord Ganesha was shown to the students. Mrs Sunita Kumar told children about the life of Lord Ganesha.
The students presented a performance on ganesha vandana "Vakratunda Mahakaye" Children of primary Wing came dressed up as lord Ganesha, Shiva, Parwati, Riddi and Siddhi.
The hidden meaning of the unique body parts of Ganesha was explained to the children By Mrs. Neelu Bhatia.
The ceremony ended with joy, learning and devotion towards lord Ganesha.