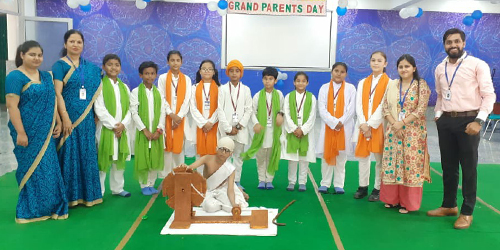 150th Birth Anniversary Celebration of Mahatma Gandhi
Date: 23.09.2019 to 28.09.2019
To commemorate 150th Birth Anniversary of Mahatma Gandhi, a week-long activities/programmes were carried out in school premises as per the schedule given in circular by department.
23.09.2019
All faith prayers, singing of bhajans and deliberations on the values and ideals of Mahatma Gandhi were conducted. Students explained the teachings of Gandhi ji by wearing masks of wise monkeys which gave a message "See no evil, hear no evil, speak no evil.
24.09.2019
Students participated in fancy dress competition, the theme was famous personalities.  The children came dressed in appropriate costumes. They spoke about the person they were enacting. To infuse the feeling of nationalism in the mind of every child mono acting performance was enacted by students of class VI. Students of class VII gave dance performance on song 'Bande me tha dum, Vande Mataram'. Students of class VIII encouraged everyone through their speeches on topics like cleanliness, non-violence and truthfulness.
25.09.2019
Mahatma Gandhi was known for maintaining and promoting cleanliness. To fulfill his dream of 'Clean India' a cleanliness drive was organized. The main purpose of the drive was to create awareness among the students regarding cleanliness and its benefits. Classrooms and corridors were cleaned. All the students and teachers participated enthusiastically. It was a unique experience for all.
26.09.2019-27.09.2019
Mahatma Gandhi also called 'father of the nation' is popular across the world for introducing non-violence, truth, cleanliness and equality. To imbibe the qualities and teachings of Gandhi Ji in students, activities such as essay writing, poem recitation, speeches, debates, Gandhi katha, kathan and slogans were conducted. Children showcased their talents and delivered amazing ideas.
28.09.2019
The school students of classes I-VIII showcased their talent and creativity through paintings and drawings.