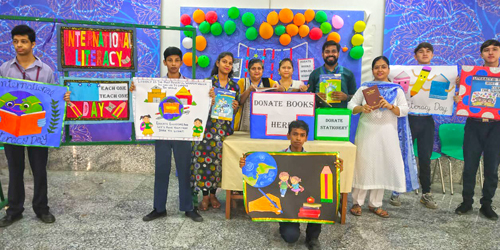 International Literacy Day
'Literacy is a bridge from misery to hope'
International Literacy Day (ILD) is celebrated annually on September 8
To sensitize the students that we are fortunate enough to have ability to read and write and we should look forward to help others, some activities were organized by Prerna House.
'Donate a book' Activity – It was an initiative to reach the kids who need books.  The students and teachers participated enthusiastically. They brought humbly used books and stationery and donated them in the boxes provided.
To make our students critical thinkers it is important to ask questions. Keeping this in mind 'Ask a question' activity was conducted. Students were asked- Why literacy is so important? Their answers were written on the classroom writing boards by the teachers. The topic was discussed with them.
To encourage the students, quotes and charts with a focus on literacy awareness were displayed.
Activities organized by the Prerna House were life enriching experience for the students and teachers.