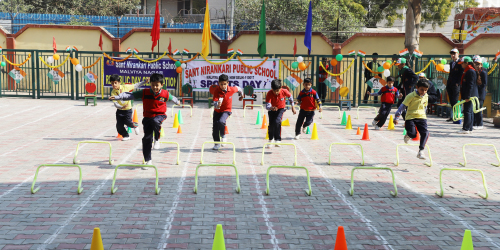 Republic Day Celebration – Cultural cum Sports Meet
SNPS, Malviya Nagar celebrated the 71st Republic Day with pride and patriotic fervor on Jan 25, 2020. The gamut of activities held in the school consisted of Saraswati Vandana, patriotic qawwali, speech, sports band and other sports events.
Students of classes I to VIII competed in various events like cone race, hurdle race, obstacle race, lemon and spoon race, rabbit race, hoopla race, skipping race, sack race, relay race with baton, balance race, three legged race, thread the bead race and inter – house tug of war. A pom-pom drill was performed by pre-primary section.
The school playground rimmed with tricolor balloons and flags. The spirit of integrity and patriotism was in the air. The day was a great success.