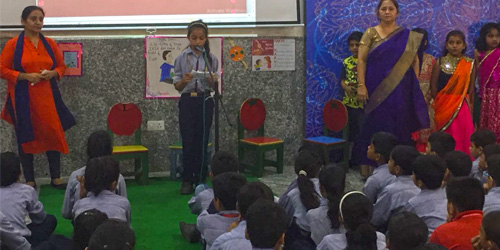 Raksha Bandhan Celebration
Raksha bandhan is an Indian celebration of sisterly and brotherly love and respect. Special assembly was conducted by Prerna House to familiarize students with the customs and to sensitize them about the sacred bond between sister and brother.
Students of Prerna House told the students of the school about the history of the festival and its significance.
A skit was performed by the children of junior wing to familiarize them with the customs and rituals followed on Rakshabandhan and significance of this festival.
Girls tied handmade rakhis on the wrist of the boys. Girls after tying the rakhis offered candies/chocolates to the boys and boys gave gifts (handmade gifts – photoframes, penstands, and cards) to the girls.
It was a day filled with learning and joy.