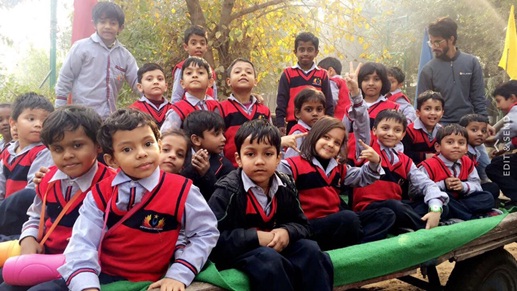 PICNIC
Picnic is the most awaited event for the students. We took the students of Pre-School and Pre-primary for an excursion to the Qutub Minar and Garden of Five Senses on 26th December 2016 (i.e. Monday).
Students were instructed to reach school by 8:30 am in the morning in the school uniform. We collected all the things that were needed for the picnic and boarded the bus and left for Qutub Minar at 9:45 am. Students were very delighted and excited. They recited rhymes and songs with great enthusiasm during the journey. We made one of our staff member dressed as Santa Claus, who was the centre of attraction for our students. It was about 20 minutes drive from the school. We all assembled at the gate and proceeded towards the Qutub Minar in proper queue. All the children were very excited. They saw the monument with great astonishment. We took many photographs of the children with the monument and Santa Claus. They had great fun.
Then we boarded the bus again for our next destination 'The Garden of Five Senses'. The children were full of energy and curiosity for the second venue. We reached there at 11:30 am. Refreshment was served to the students first and then the teachers along with the children played outdoor games such as 'Catch the Ball' and 'Ring a Ring a Roses' etc. It was a great fun. They also enjoyed watching rock statues. The students had a gala time and a memorable picnic.