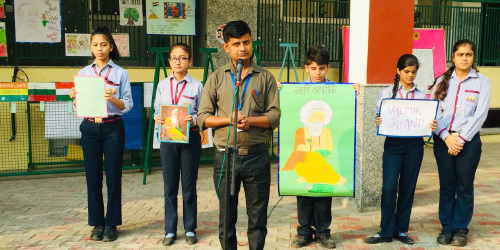 Maharishi Valmiki Jayanti
Sant Nirankari Public School (Malviya Nagar) celebrated Maharishi Valmiki Jayanti in a Special Assembly on 14th October 2019.
Mr. Chandan Jha told all the students that Maharishi Valmiki Jayanti celebrates the birth anniversary of Guru Valmiki, who wrote the epic Ramayana that consists of 24,000 verses. Maharishi Valmiki is a celebrated harbinger-poet in Sanskrit literature.
Students brought out the significance of the day through an impressive Skit. Thoughts and facts were presented about Maharishi Valmiki. It takes place on the full moon day of Ashwin month that is in the month of September or October all over India.
Shobha yatras are performed by Hindu followers on this day. Food distribution and various meetings are held. By the community of Maharishi Valmiki the day is observed as Pargat diwas. On this day Ramayana is read and distributed amongst them.
The participation and presentation of the students during the assembly was indeed appreciable and inspiring for one and all !