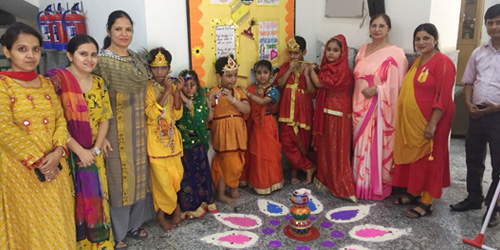 Janmashtami
With the blessings of Mata Sudiksha Savinder Hardev Kaur Ji, SNPS Malviya Nagar celebrated Divine festival of India "Janmashtami" with great zeal and devotion on 1st September, 2018, where students of class VIII put light on the significance of "Janmashtami".
Students of Class VI A presented the teachings of Lord Krishna along with their meaning.
Our Sanskrit teacher recited few shlokas from Bhagwat Geeta and explained that these Shlokas are actually the Gyan given by Lord Krishna to Arjuna in the battlefield of  Kurukshetra which explains the true meaning of life.
It was nonetheless brought to life by the scintillating dance performance( Nand ghar anand bhayo…) by the students of Nursery that represented Krishna's  'Leelas' and depicted the importance of the occasion. With their laudable performance, they lighted up the stage and mesmerized the audience.
This was followed by a group dance( Gori gori gayian….) dipicting the childhood of Sri Krishna.
All the students were shown a short movie of Lord Krishna illustrating the fact that whenever there will be dominance of malevolence 'He' will reincarnate to destroy the evil and save the good.
Children of (Pre School, pre – primary and 1st) came dressed in, as Krishna ,Radha ,Sudama and in other colorful outfits. A beautiful  backdrop was made with little Krishna in the cradle. Students of Class VIII made Rangoli to fill the colours of divine happiness in the School.
Head Mistress Mrs. Sushma Manchanda also came and rocked the cradle and wished all the students a 'Happy Janamashtami' and guided them students to follow the right path as shown by Lord Krishna.
An Arts and Craft activity was organized to celebrate Janmashtami. It got an overwhelming response by the children. Beautiful arts and craft work made by the students were on display. The exhibition was appreciated by the honorable Chairperson and Headmistress. It surely displayed the talent of the children. The art work left the spectators mesmerized. Various art work like Krishna's Cradle, Greeting Card making, Krishna Peacock crown, Flute decoration, Rangoli making and painting etc. were done to enhance creativity of the students.
Organising such competitions not only enhances the creativity but also proves to be a new and interesting way to learn about the significance of the festivals. The activity saw great enthusiasm among the children who were eagerly waiting for their chance to show their talent.
Topics of the activities were:
VI- VIII –
Greeting Card for Teachers Day
Krishna's Peacock Crown
Krishna Jhula(Cradle)
III –  V  –
 Greeting Card for Teachers Day
Flute decoration
Dahi Handi ( Curd Pot)
II             1. Peacock (Painting)
I              2. Krishna's Village Scene