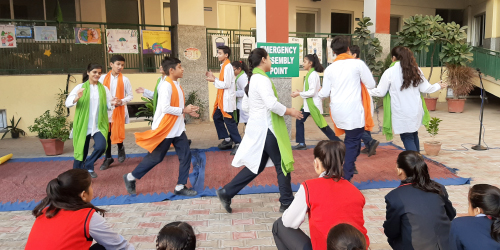 International Day of Persons with Disabilities
Sant Nirankari Public School (Malviya Nagar) organised a special assembly on December 3, 2019 to mark the International Day of Persons with Disabilities. It is an international observance promoted by the United Nations since 1992. It aims to promote the rights and well being of persons with disabilities and special needs. The theme for this 2019 IDPD is 'Promoting the participation of persons with disabilities and their leadership: taking action on the 2030 development agenda. The 2030 Agenda for Sustainable Development pledges to 'leave no one behind'.
The students of our school were in particular made aware of the problems faced by the people with disabilities, the importance of self realisation, belief, courage and confidence, the sensitivity that world needs to offer to the people with disabilities and treat them equally and the encouragement these people derive from positivity and support.
A 'Nukkad Natak' depicting the problems faced by persons with disabilities was presented by students of class VIII.  Our Special Educator, Mr. Sharnam Monga, guided the students regarding it. Mrs. Arpreet Kaur (House Incharge – Pragati House) concluded the play and forwarded the message of inclusive education and mobilizing support for the dignity , rights and well being of persons with disabilities.  Hon'ble Headmistress Mrs. Sushma Manchanda encouraged the students to love and respect all, with the intention to imbibe the essential human values in children.
The Headmistress gave certificates and medals to the children with special needs for their outstanding performance in sports activities. Students exhibited posters to forward the message of integration of persons with disabilities in every aspect of political, social, economic and cultural life. The assembly ended with National Anthem.