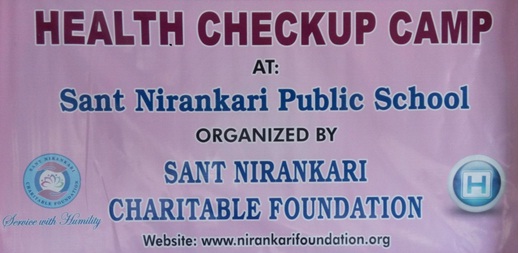 Health Checkup Camp
In an endeavor to raise health awareness and to highlight the importance of regular health checkups, Sant Nirankari Public School, Malviya Nagar organized free Health Checkup Camp on 24th September, 2016 (i.e.), for all the students, in the school premises. During the camp a team of certified doctors (including dentists, general physician, and eye specialist) conducted interactive sessions and observed more than 500 students of the school.
The main purpose of the camp was to maintain proper health in the students. A brief medical report was also given by the specialists and in few special cases prescriptions were also given which would be discussed with the respective parents by the class teacher during the next parenting session. The students curiously shared their issues with the doctors and received satisfying solutions. Few important points were emphasized by the doctors such as
Drinking plenty of clean water and other liquids such as fresh fruit juice, milk etc.
Regular washing of hands before and after every meal and even after using toilet.
Cutting of nails on regular basis.
Importance of doing a healthy breakfast was also explained to the students.
The most important agenda of the camp was 'Swachchta' as cleanliness plays a vital role in living a healthy life.
All these points were recapitulated in the next morning assembly and necessary steps have also been taken to inculcate good habits in the students.
Overall, such type of initiatives in schools is highly appreciable as it encourages the spirit of health & hygiene in the children.