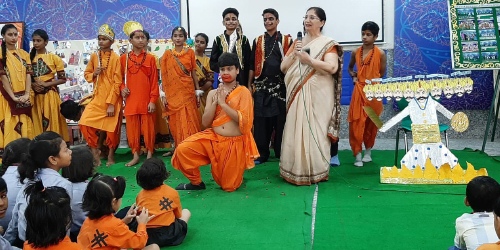 Durga Ashtami and Dussehra
Sant Nirankari Public School (Malviya Nagar) celebrated Dussehra and Durga Puja with a lot of fervor and ardor. A spectacular act of Ramlila was staged by the senior students in which they presented scenes from the banishment of Rama from Ayodhaya followed by his victory over Ravana. Students themselves made the Bow and Arrows, Swords , Gada , Mukuts and other related craft.
The students presented a beautiful dance on , 'Raghukul reet sada chali aayi'. The primary objective of the entire show was to convince the students that no matter how intelligent a person is, his pride will be the reason of his collapse.
A  dance performance on 'Durga Tandava', was also performed in the school by Bhumika (Class VIII) to celebrate Durga Puja festival. The programme was based on the theme of the nine forms of 'Shakti', who were worshipped by Lord Rama before he killed Ravana.. It ended with Goddess Durga killing the demon called Mahishasura.
The Headmistress Mrs. Sushma Manchanda addressed the students and told them that the purpose to organize this celebration was actually to make the students aware of the oft repeated message 'the triumph of virtue over the vice'. She congratulated the teachers and the students for the coming festival season.