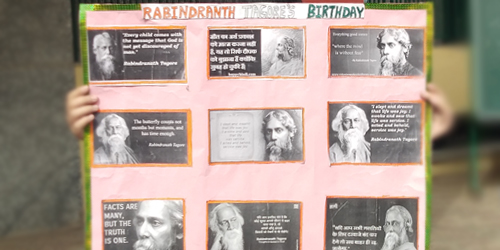 Budh Purnima and Rabindranath Jayanti
A special assembly on Budh Purnima was held in SNPS, Malviya Nagar. It began with the "Sarva Dharma Prayer". Our Sanskrit Teacher, expressed views regarding the life of Gautam Buddha and the importance of non-violence. Students of Class V-A gave presentation on the teaching of Lord Buddha.
Rabindranath Jayanti is the day which marks the birth anniversary of the great scholar, novelist and Nobel Laureate the 157th birth anniversary of Rabindranath Tagore in our school. Students of V-B enact a play on one of the story of Rabindranath Tagore.